Back to Pete Claisse's home page: index.html
Wooden cedar strip planked boat building projects.
These pages give pictures and plans of four wood-glass-epoxy boats that I have built:
Bronty, LOA 9.8m, Displacement 4000kg, Built 1986 See: Boats\Bronty.htm
Canoe, LOA 2.8m, Built 1994 See: Boats\Canoe.htm
Burr, LOA 6m, Displacement 800kg, Built 2005 See: Boats\Burr.htm
Brooke, LOA 17m, Displacement 9000kg, Construction started 2016
See: Boats\17m Plans and Models.htm , Boats\17m hull.htm
in 2017 Boats\17m launching.htm and Boats/17m Superstructure.htm
and 2018 Boats\17m boat 2018.htm
Please see the January 2021 edition of Waterways World magazine for a 5 page article about my 17m boat Brooke with photos of its first cruise.
This boats were designed using my own programmes which run as macros in Excel.
You may download the programme here but no warranty is given for the output from it: Boats\boat 8.xlsm
The cross sections show the forward part of the boat to the left and the aft part to the right.
Red dots show points fixed by hand for the programme to draw curves through.
The software has to ensure that the hull is a continuous smooth surface and that the finished boat will be stable.
It also checks the radius of curvature of the planks to ensure that they can be bent into place.
The construction method is strip-planks with glass-epoxy.
For the last two boats aramid fibre has been used over the glass below the water line.
The planks are nailed to marine plywood bulkheads using bronze ring nails
I have carried out some research on wood-glass-epoxy composites see: Wood.htm , My papers\paper 8.pdf, Theses\BrunoMasse.pdf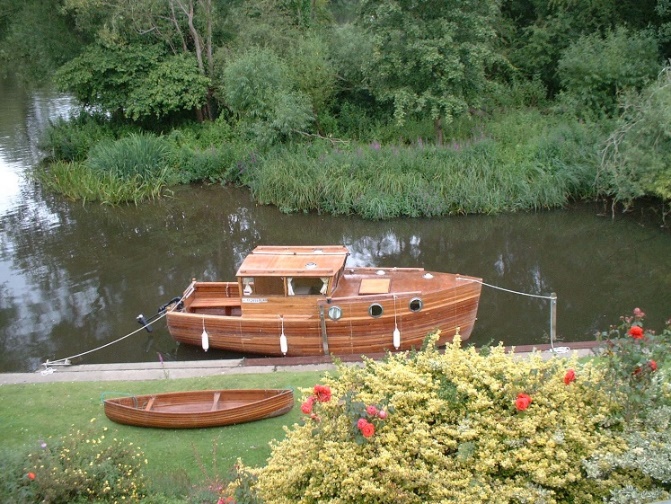 Burr and the canoe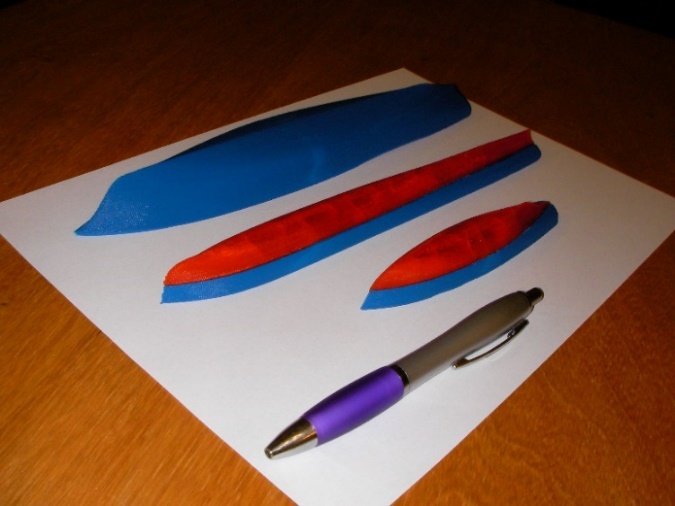 3-d printed models. Bronty (right) and the 17m (centre)
The code for the models is produced by the design software
Two types of model were made. Light weight ones for testing and ones with two colours
for inspection.