CONSTRUCTION MATERIALS RESEARCH PROJECTS AT COVENTRY UNIVERSITY
WOOD-GLASS-EPOXY COMPOSITES                         Back to home page
Status:  I have had one PhD student on this project.
This project was aimed at developing new jointing/reinforcing methods for advanced timber structures. Extensive use was made of the strong-floor and the data capture facilities for recording deformation of joints during failure. The project builds on expertise in the use of wood-glass-epoxy composite techniques for reinforcing and jointing timber.  The new method offers many advantages over conventional nail plate systems for several types of application.
<![if !vml]>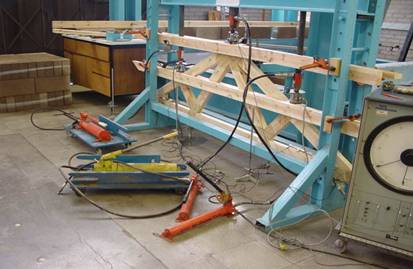 <![endif]>This picture shows a model truss rafter with epoxy-glass joints being tested in the lab.  The members in the truss are far heavier than would be used in practice.
The idea of using wood-glass-epoxy came from boat building.